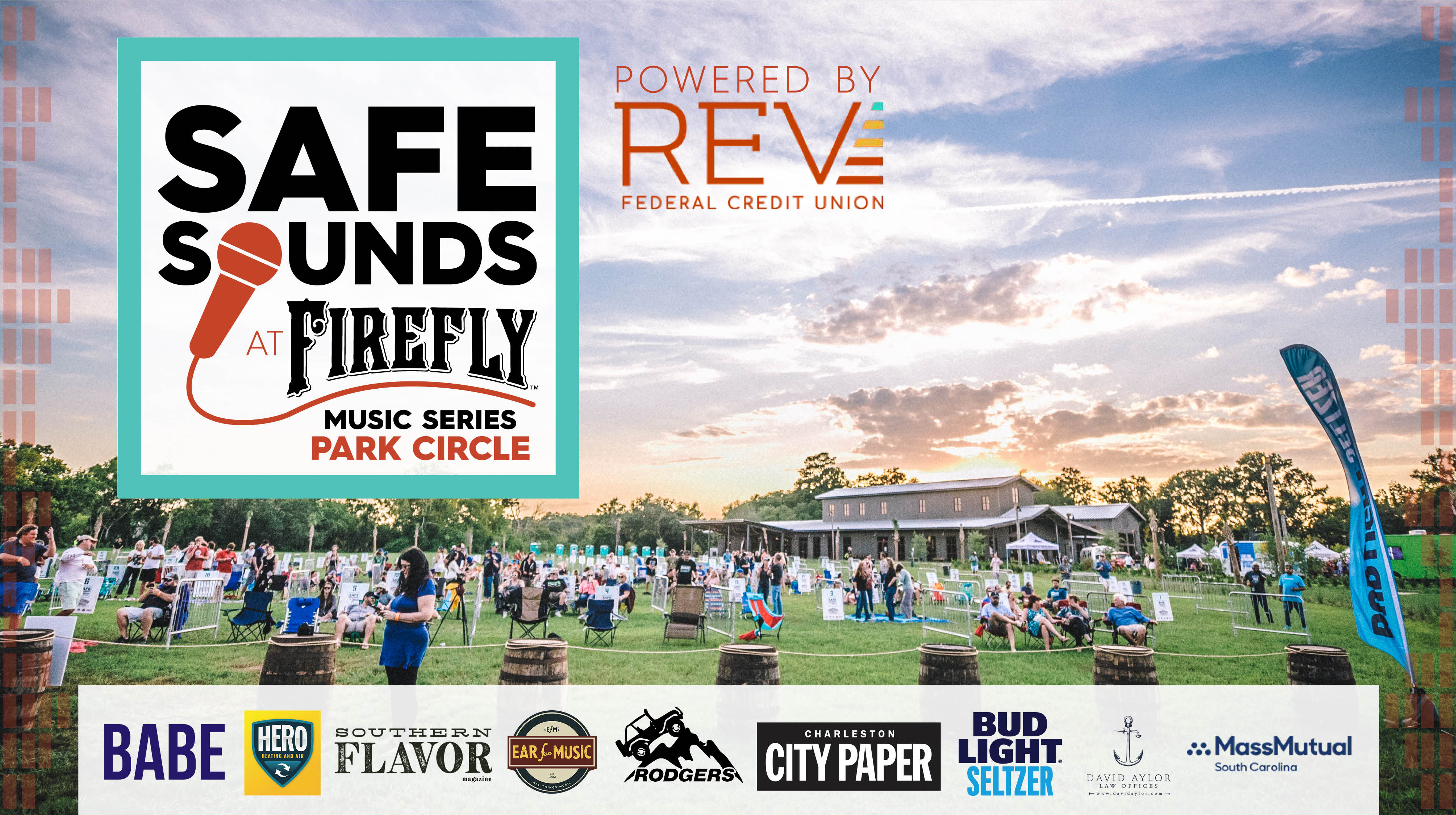 Safe Sounds at Firefly Music Series


powered by REV Federal Credit Union
April 17th-July 15th • Doors 6:00pm • Show 7:00pm
No Pets
No Coolers or Outside Food & Drink
Each 10' x 10' Safe Space Square Ticket includes concert admission for four adults
All ages are welcome, but everyone must purchase a ticket
Safe Sounds at Firefly powered by REV Federal Credit Union and produced by Ear For Music and Firefly Distillery is back in 2021 with a third installment of Charleston's first socially-distanced concert series.
The spring Safe Sounds concert series will kick off on March 19 and will feature national musicians and homegrown favorites. Attendees will enjoy live music, beer, wine and food truck fare from the sprawling fields of the new Firefly Distillery in Park Circle, 4201 Spruill Avenue. Up to four guests can enjoy live music in 10x10 Squares that allow for safe social distancing.
Safe Sounds at Firefly is Powered by REV Federal Credit Union, & Presented by Bud Light Seltzer & BABE wine. Other sponsors include Hero Heating & Air, Rodgers Wranglers, Southern Flavor Magazine, David Aylor Law Firm, Mass Mutual SC and Charleston City Paper. Charleston's #1 DJ Natty Heavy will be spinning pre-game tunes and during set breaks.
*DJ Natty Heavy will be spinning from 6-6:45pm. Doors open at 6:00pm, concerts begin at 7:00pm.
1. GENERAL STATEMENT
The safety and health of the community and our staff is of the utmost importance to Firefly Distillery and Ear For Music. The precautions and event policies identified below represent the efforts being made by the Distillery, Ear For Music, and its staff to keep our community safe when attending events.

Firefly Distillery and Ear For Music will continue to follow the guidance of national, state, and local agencies and will continue to seek out additional support from city agencies. Our policies as outlined below have been crafted with the input of local city and public safety partners.

By attending any event at Firefly Distillery, you acknowledge the risk of becoming exposed to or infected by COVID-19. You voluntarily agree to assume all the foregoing risks and accept sole responsibility for any exposure.
2. GENERAL PRECAUTIONS
A. Please stay home if you are at high risk, sick, or if you have knowingly been exposed to Covid-19 in the last 14 days.
B. Masks are required by all guests anytime they are in line at concessions or interacting with event staff and vendors.
C. Wash your hands often and use sanitizer.
D. No need to shake hands, elbow bumps are legit.
E. Firefly Distillery reserves the right to remove anyone from the property who is not abiding by the guidelines as outlined here.
3. SOCIALLY DISTANT SEATING
A. We have created 10 x 10-foot safe spaces on our Field during live music events to help provide guests with an area to spread out safely. We've allotted an 8-foot distance between each square. At this time, no more than 4 guests are allowed per 10x10 foot area.
B. All tables and benches on Firefly Distillery property have been placed at a minimum of 8 feet apart.
C. Guests are asked to observe the social distancing guidelines of no more than 8 people at a table at one time.
D. We ask that all guests respect the social distance space of others and maintain a 6-foot distance from people who are not in your party.

4. EVENT EXPERIENCE
A. Event guests are encouraged to bring chairs and blankets to make their 10x10-foot safe space more comfortable.
B. Please refrain from bringing coolers, tents and outside food or drink.
C. Food trucks will be serving on site and beer/wine will be available for purchase.
D. All ages are welcome, but everyone must purchase a ticket, including enfants
5. INCREASED SANITATION
A. Per the CDC guidelines, staff will sanitize common surfaces such as picnic tables and bar tops after each customer use.
B. Firefly Distillery asks that all customers sanitize their hands with sanitizer provided before entering the building.
C. Hand sanitizing stations have been added throughout the property for public and employee use.
D. Additional restrooms with a sanitation attendant have been added for all events.

6. STAFFING POLICIES
A. All staff serving a consumable product to guests are required to wear a protective mask.
B. Firefly Distillery will check temperatures of all staff prior to each shift and prior to entering the building.
C. Staff continues to be trained and educated on best practices as provided by the CDC, as well as state and local agencies.
7. TICKET EXCHANGE POLICY
All tickets purchased to Firefly Distillery events are final. There are no cancellations or refunds. Tickets must be paid in full at the time of purchase, and no unpaid seats will be held.
If you are unable to use your tickets, you may exchange you tickets for another available show:
TICKET EXCHANGE POLICY: Exchanges are allowed only at the management's discretion and all exchanged tickets are subject to show availability. No refunds are given for exchanges into lower-priced tickets.
PLEASE NOTE: The box office must receive physical tickets for all exchanges at least two (2) hours prior to the show start time printed on the ticket you wish to exchange. Ticket exchanges are not applicable after performances begin."

8. WAIVER
Firefly Distillery, LLC and Ear For Music cannot prevent you from becoming exposed to, contracting, or the spread of COVID-19 while attending any event on premises. It is not possible to prevent against the presence of the disease. Therefore, if you choose to attend events or utilize services on Firefly Distillery's premises you may be exposing yourself to and/or increasing your risk of contracting or spreading COVID-19.

ASSUMPTION OF RISK: I have read and understood the above warning concerning COVID-19. By purchasing a ticket to any event or utilizing any business services of Firefly Distillery, LLC or Ear For Music, I hereby choose to accept the risk of contracting or being exposed to COVID-19. Further, I acknowledge that I will not attend any event or utilize any service at Firefly Distillery if I have knowingly been exposed to and/or are showing symptoms of COVID-19.