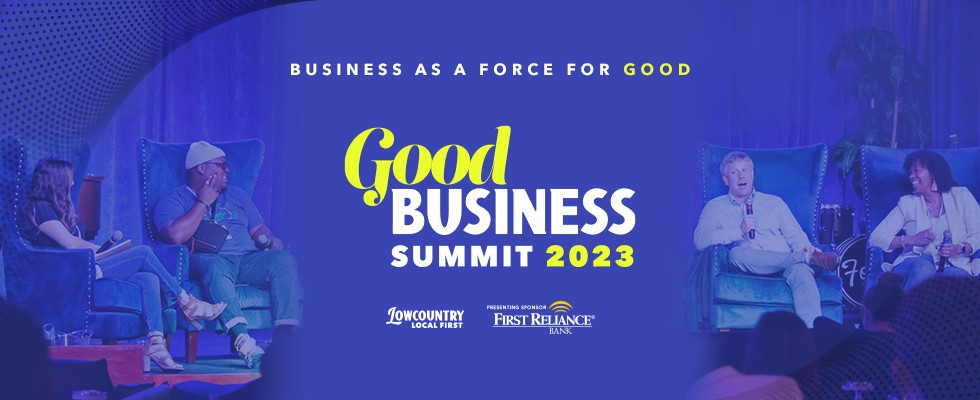 The Good Business Summit by Lowcountry Local First
Thu, Feb 9, 2023 from 8am - 6pm
LLF Member (Early Pricing)
Non-Member (Early Pricing)
Join LLF + Discounted Member Ticket
more info
Become a member business with Lowcountry Local First and receive a (1) discounted member ticket to the Good Business Summit. LLF's team will reach out to set up your membership details.
A business conference with soul, the 10th annual Good Business Summit is a one-day event hosted by Lowcountry Local First spotlighting ideas and workable solutions for building your company with profit and purpose. We convene the best and brightest business leaders to give you the tools and inspiration to grow, prosper, and give back while connecting you with like-minded entrepreneurs. The 10th annual Good Business Summit is presented by First Reliance Bank and these supporting partners.
2023 sessions will be released soon. Last year's sessions included:
- Good Growth: Aligning Values, Passion, and Purpose to Build a Company You Love
- Great Companies Attract Great People
- How Jeni's Internal Culture Drives Brand Voice and Reputation
- Craft Your Commerce: Top Trends for Indie Retailers
- Building Value-Aligned Partnerships with People and Brands
- Crowdfunding and Other Non-Traditional Funding Models
- Mission Marketing with Social Media and PR Experts
- Commercial Lease University
- The Responsible Brand Toolkit
Schedule at a Glance:
8:15 a.m. — Doors open (Coffee and light breakfast provided on-site)
9 a.m. — Welcome & Keynote 1 on Main Stage
10:15 a.m. — Coffee Break
10:30 a.m. — Panel Session on Main Stage
11:30 a.m. — Keynote 2 on Main Stage
12:30 p.m. — GoodEats Lunch (provided on-site)
1:30 p.m. — Breakout workshops at nearby venues (pick from 3 options)
3 p.m. — Breakout workshops at nearby venues (pick from 3 options)
4:30 p.m. — GoodDrinks Cocktails (nearby venue)
For more information, please visit: http://goodbusinesssummit.org
Support our scholarship fund and enable full community access to this important event: https://lowcountrylocalfirst.org/donate/
Ticket refunds are not permitted on or after January 20, 2023. Tickets are non-transferable after January 27, 2023.